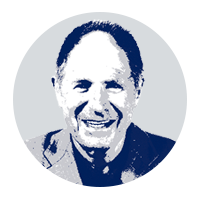 Author: Tom Baruch '60
Senior Adviser to Breakthrough Energy Ventures
Tom Baruch is a member of the Rensselaer Polytechnic Institute Class of 1960, a trustees emeritus of the Rensselaer Board of Trustees, and the namesake of the Baruch '60 Center for Biochemical Solar Energy Research at Rensselaer. He was recently named a senior adviser to Breakthrough Energy Ventures, a more-than-$1 billion fund dedicated to building companies that will help stop climate change. He also invests in early stage companies focused on resource-scarce and climate-sensitive markets out of his family office, Baruch Future Ventures. In addition to a successful business career leading multiple companies and venture capital firms, Baruch previously advised the U.S. Department of Commerce and the White House as a founding member of President Obama's National Advisory Council on Innovation and Entrepreneurship. He is also a member of the Executive Committee of the U.S. Council of Competitiveness and a member of the Steering Committee of its Energy, Security, Innovation and Sustainability Initiative and the U.S. Manufacturing Competitiveness Initiative. The following post was originally published on Medium.
Climate change has never fully captured the attention of the business world, being mostly treated as a negative externality rather than a business opportunity. Yet our moral compass is rapidly approaching the time when we can point to solving this problem and, making money at the same time.
Leaving this challenge for the next generation to figure out is no longer an option. We are already halfway to the two-degree limit mandated in the 2015 Paris climate agreement — a limit meant to stretch to 2050. To avert the most dramatic impacts of climate change, anthropogenic emissions need to drop by almost 50 percent over the next 10 years — which means we must act now.
Curbing anthropogenic emissions may seem an intractable task, with 5.3 billion tonnes emitted in the U.S. alone in 2018 and the cost of directly removing carbon from the atmosphere upward of $100 per tonne. Even ignoring cheaper and more effective solutions already available, recent history provides ample reasons to see a path to a sustainable long-term solution.
Solar panels went down in price ten-fold in the 10 years before 1985, and another 25 times since then. Data storage came down almost three million times in price per gigabyte in the three decades before 2010, fueling the artificial intelligence boom witnessed today.
The treatment of HIV/AIDS was a black box until initial treatment came out in 1987. This therapy cost $10,000 and would add only a year to a patient's life expectancy. By the early 2000s, for $350 per year HIV/AIDS changed from a near-certain death to a chronic disease that is no longer even transmitted from mothers to children. More recently, CRISPR-Cas9 is showing results to create gene therapies at 1 percent of the current cost.
All this is to say that we can change the cost of resolving climate to less than the average customer in the United States currently spends on Netflix. However, we must make bold moves toward mitigating climate change while the window to do so is still open. This will take the right combination of brilliant innovators and visionary investors.
Venture Capital and Climate Change: The Imperative of a 10-Year Timeline
For today's venture capitalists, climate change presents not only a major problem, but also a great opportunity. In fact, the timing could not be better for obtaining real return on capital employed by investing in an entrepreneurial approach to saving our planet.
Our startup culture is capable of compressing a century of progress into less than a decade, creating exponential change and generating substantial value in a fraction of the time. This time compression provides investors with exponentially greater rates of return on investments. As noted by Stephen Hawking, "Our population and our use of the finite resources of the planet Earth are growing exponentially, along with our technical ability to change the environment for good or ill."
To move the needle on climate change in this limited timeframe does require an end-to-end approach to investment. I propose venture capital utilize a "Full Stack Innovation Capability (FSIC)," a term borrowed from modern software development to describe the holistic concurrent development and implementation of innovation, investing, policymaking, and company-building.
The Four Key Vectors of the Full Stack Innovation Capability
The FSIC model is built on the premise that profits and policies can be purpose-driven. Within individual networks, the FSIC approach embeds financing instruments, technology, programs, and business models to activate the "full stack" capability of innovation. When these elements are directed strategically towards the same purpose, we can create change and growth at an unprecedented pace. 
Creating a healthier investment ecosystem
Our present investment culture is fragmented and highly inefficient, sending many of the most promising companies and their founding innovators into a funding death spiral. The FSIC approach provides financing mechanisms for end-to-end capital, from shepherding academic ideas to harvesting profitable company exits (M&A, IPOs).
This means the FSIC should align substantial and coordinated flexible financing from all levels to provide funding to — and from — the drawing board. The markets for energy, food security, water purification, air quality, and health are 20 to 50 times greater than those for IT products providing ample economic justification for investors.
Combining focused investments in research with practical and commercial applications opens access to easier, lower-cost capital, while creating new economic opportunities to advance these solutions further along the development cycle. Key to this multiprong approach can be a launching pad for grants from nonprofit foundations and the critical work of "patient capital" ventures such as Breakthrough Energy Ventures and ARPA-E.
Private investors who care about the future of humanity yet also understand markets are already drawn to the cleantech revolution with over $330bn invested in cleantech globally in 2018. However, to meet the urgency and global needs, a capability for facilitating all types of asset classes will be required to spark this new clean tech revolution.
Leveraging technology
 Resource-focused investors cannot be techno-centric, investing only in a single technology like batteries. We need to view technology as a commodity that can be applied and traded across sectors and we must consider how to leverage multidisciplinary exponential technologies for better outcomes.
By exercising the same compounding forces inherent in exponential technologies like DNA, robotics, automation, and AI, we can harness and maximize the rate of return for business models across every industry.
In this century, Synthetic Biology (SynBio) has emerged with the potential to transform how we produce energy, chemicals, pharmaceuticals, and food — our most carbon-intensive industries — if harnessed responsibly. By pushing beyond assumed or expected technology boundaries, we enable entrepreneurs to keep innovating. 
Platforms, policies, and programs that do well by doing good
The solar industry is a poster child for how government policies, applied responsibly and judiciously, can create an entirely new industry out of thin air and in broad daylight. Without the subsidies that assisted fledgling companies there would not be a solar industry" today.
Another example is carbon taxes, endorsed by William Nordhaus, Yale professor and 2018 Nobel Prize winner in economics. By creating analogs of this across other sectors, we can more efficiently broaden awareness, attract global innovators, create commercial appeal, and increase consumer demand.
Harnessing the depth of horizontal networks
Perhaps the most intangible, but critical, factor is a robust network that embeds all the above within the innovative entrepreneurial culture. When the best scientists, entrepreneurs, programmers, policymakers, and financiers work together, the market — and not individuals with personal interests — can drive best practices and processes.
Networks are crucial to driving the changes we need. We need a blitz of everything: technology, programs, policies, plans, unique business models and financing woven throughout the individual networks and among the different vectors. Technologists and policymakers do not often cross paths. If we want to give the world's climate our full attention, we must deliver a full stack approach and build collaboration across disciplines and public and private sectors.
Human Ingenuity Is Our Most Powerful Natural Resource
Now is the time to build valuable and impactful companies that address the climate chaos of our times. We must challenge our leaders in technology, policy, programs, and platforms to align with creative financial minds and innovators in a collaborative network that competes against the clock instead of one another.
The power of the venture capital community lies in its ability to identify, inspire, and connect the rare catalyst entrepreneurs who can bend a problem to an urgent timetable and drive sweeping social and environmental transformations.
The solutions are out there. So are the people poised to find them. It's time to coordinate our efforts, and unleash a new class of entrepreneurs and investors to reprogram our future in extraordinary ways.